Departments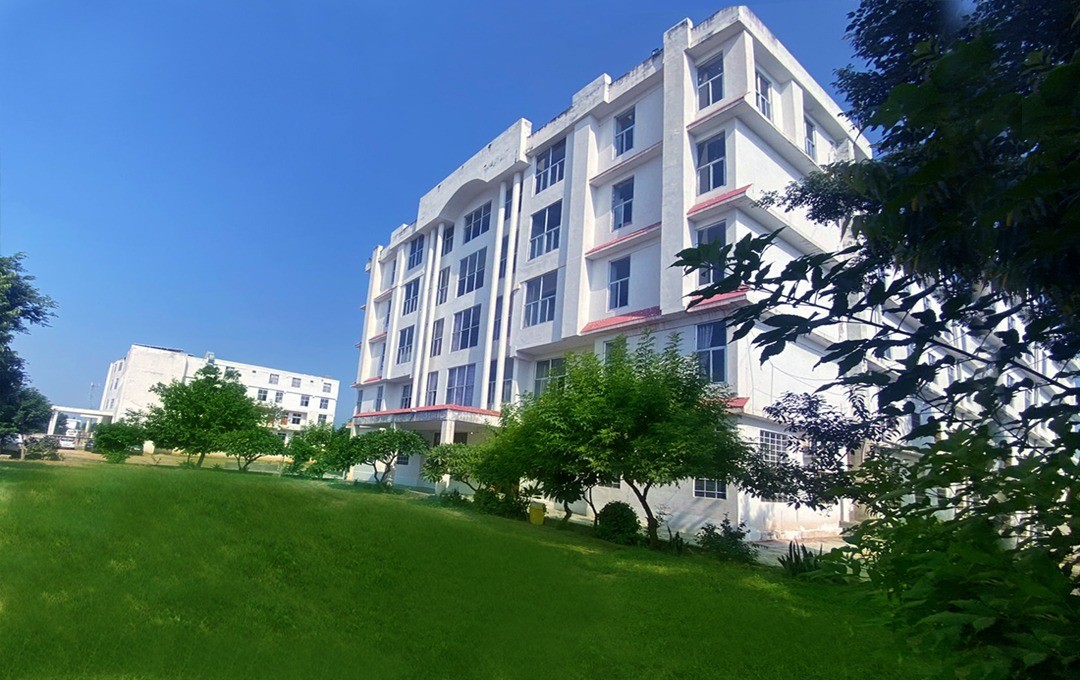 C

ollege have welll depveloped, Furnished & Equipped all departments, Laboratories, Museum, Pharmacy , Cadaver Room, Embalming Room, etc. All departments fully equipped & functioning with all essesential equipments, intruments, articles, testing chemicals, charts, Models, specimans, microscopies & All the reagents, chemicals, apparatus are also available in the departments. All the departments developed with

computer , Printer and internet facility along with

departmental library with sufficent books, HOD Room, Faculty Rooms, Office, Department Store , Tutorilas room &

as per CCIM norms.
There is a good infrastructure of departments , laboratories in the college and there are separate labs in each department where practical is the part of the prescribed syllabus. The college has well equipped and developed Laboratory of Kriya Shareer (Physiology) and Rachana Shareer (Anatomy), Roga & Vikriti Vigyan (Pathology), Quality Testing Laboratory & departments of up to final Year professional etc. All Departments are rich in Museum, Specimens, Equipment, Machinery, Testing Chemicals and Model Charts etc.
These labs are well equipped with necessary experimental facilities and are upgraded annually with the addition of equipments and other practical related materials. Students work with state-of-the-art machines under expert guidance from an experienced and trained Faculty. Laboratories are equipped with latest equipment to conduct experiments as mandated by statutory norms and more. The Laboratories have stocked to ensure that all students are accommodated comfortably. The equipment will be updated and consumable will be replenished timely to ensure smooth learning of students. These are well equipped and well designed with updated technology for concerned board/ University syllabus.
The laboratories are used by all the practical subject students in the groups of 20-50 under the expert supervision of experienced teachers and with the logistic support of other lab staff. The students are given optimum exposure of experimental learning and it is ensured that each student must know about the procedure and method to conduct the experiments.

Details of Departments space are as follows :-
S.No.

Total area of College

Details

1

Total area of College

5060 Sqm.

or 54470 Sq.ft.

2

Area of Administrative Section

374 Sqm.

3

Department of Samhita, Sanskrit & Siddhanta Dept.

5118 Sqm.

4

Department of Rachana Sharir Department

297 Sqm.

5

Department of Kriya Sharir Department

175 Sqm.

6

Department of Teaching Pharmacy& Quality Testing Lab.

203 Sqm.

7

Department of Dravyaguna Department

253 Sqm.

8

Department of Agad Tantra & Vidhi Vaidhyak Department

112 Sqm.

9

Department of Rash Shastra & Bhaisajya Kalpna Dept.

160 Sqm.

10

Department of Exam Hall/ Auditorium

325 Sqm.

11

Department of Swasthwarta Department

175 Sqm.

12

Department of Prasooti & Stri Roga Department

102 Sqm.

13

Department of Kaumarbhritya

77 Sqm.

14

Department of Nidhan & Rogavigyan

160 Sqm.

15

Library

203 Sqm.

16

Lecture Halls ( 5nos. )

855 Sqm.

17

Boys Common Room

50 Sqm.

18

Girls Common Room

55 Sqm.

19

Canteen

135 Sqm.

20

Department of Shalyatantra

162 Sqm.

21

Department of Shalakya Tantra

162 Sqm.

22

Department of Panchkarma

94 Sqm.

23

Department of Kayachikstiya

200 Sqm.